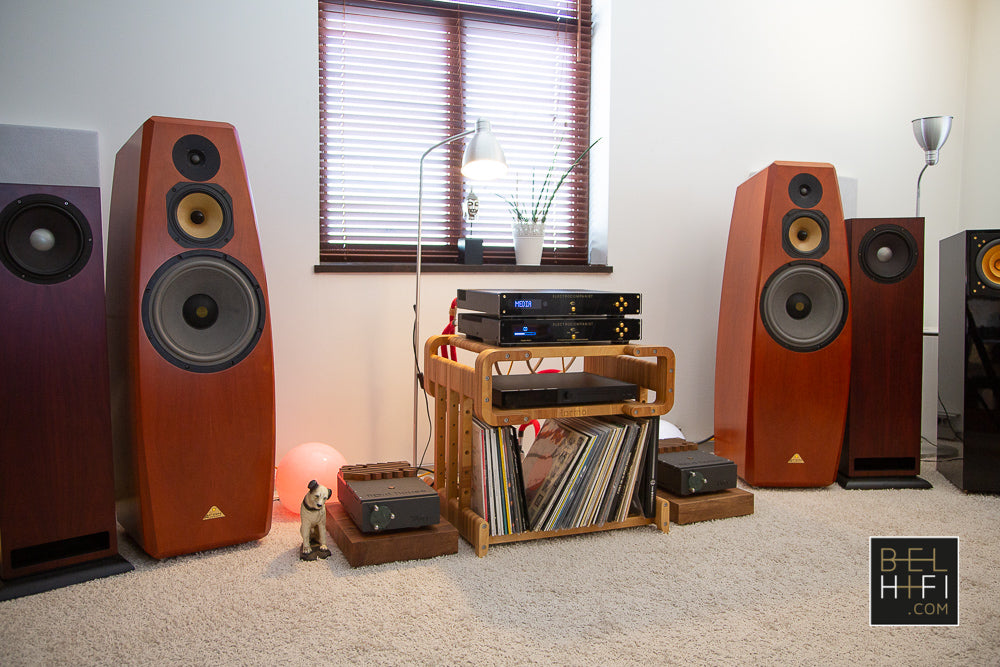 Details
Acon Audiom tri-active Loudspeakers A1334-S (PAIR)


2nd Hand!


No boxes!!!
Possibility to send in flightcases in option.
Choose option in the menu.
Perfect shape!


Some small scratches.
Perfect working condition!
Totally revised & inspected, speakers and electronics.

New Original Woofer suspension (Surround foam)


Very nice sounding active loudspeakers, at fair price...


Price new 17.900€!!!
THE EASIEST AND FASTEST WAY TO ACCESS THE TOP OF THE HIGH-END MUSICAL SOUND!


Acon Active Loudspeakers Audiom. 4 power amps integrated in each speaker.
The ACON Divus models are three-way active speaker systems with integrated power amplifiers and active filter with a slope of 24 dB / octave.
The low frequency response is extended up to 25 Hz (-3 dB) using a Linkwitz-type electronic correction circuit.
These speaker systems are based on the professional monitoring system ACON 1034MF.
They are designed to be used in medium and spacious rooms in ambitious HiFi and Hi-End applications.
Precise selection of pilots, phase corrected crossover,
perfect phase and delay uniformity at crossover frequencies,
high quality MOS-FET power amplifier for each pilot,
sophisticated protection circuits promising high output,
low coloration, wide bandwidth and long-term reliability of the A1334 speaker systems.
The diameter of the woofer and the volume of the speaker are synonim of energy at very low frequency!


All electronic circuits as well as the toroidal transformer are located in the lower part of the loudspeaker box,
the heat sinks of the power amplifier are mounted on the back to ensure long-term reliability.
The handcrafted and finished enclosure is 30mm thick MDF, covered with real wood veneer.


X-over features:
Tweeter from -6 to 0dB level control.
Medium from -6 to 0 dB level control.
Bass from -6 to 0 dB lvel control.
Bass tilt: four positions.


Specifications:
Frequency response: 25Hz-20kHz (-3dB)
THD: <0.04%.
S/N: 102 dB A weighted.
Amps: 220w/ high freq & mid, 500w Bass.
Input: XLR Bal 10Kohm.
Input sens: -18 to +18 dB.
Power: 230v
Dimensions: 380/420/1200 cm W/D/H.
Weight: 65Kg.
Finish: Cherry wood veneer.


For more info's:
2nd Hand
Acon Audiom tri-active loudspeakers A1334-S(A) (Pair)
OUR VALUES
Expertise
Personal Advice
Auditorium / Physical Shop
Customer Support