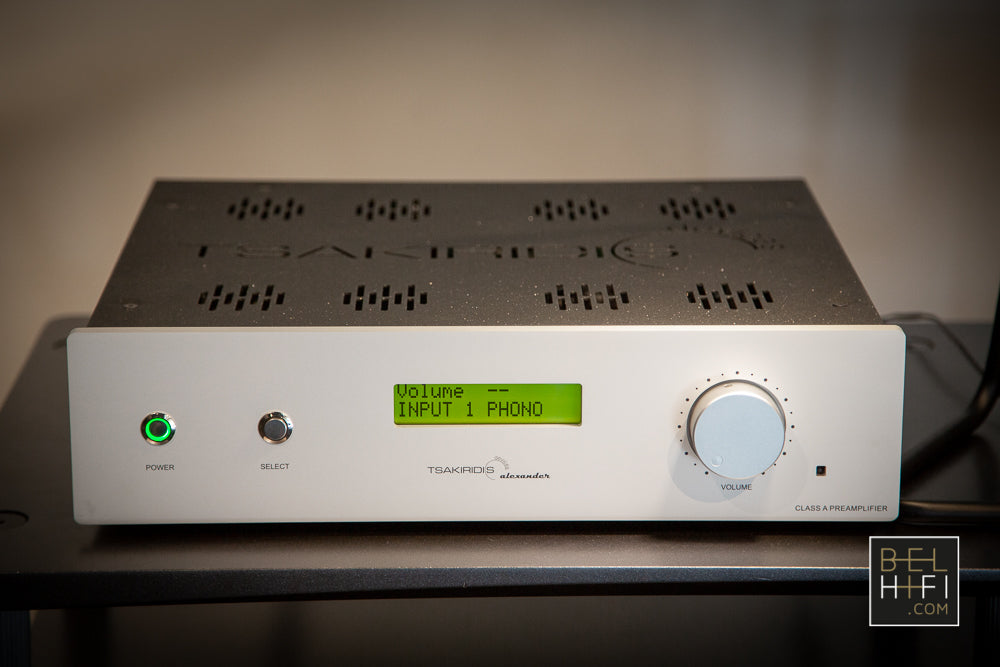 Details
Tsakiridis Alexander II line/phono MM preamplifier

On demo at the shop!
The best preamplifer Price/Quality ever!

Phono MM inboard card included.

Alexander is the top model of the preamplifier series of Tsakiridis - devices Very carefully designed and manufactured with high quality components, aims to ameliorate your sound system.
Alexander incorporates different (hand made) transformers for each voltage in the power supply and also a choke with the regulating capacitors.
Care has been taken to eliminate magnetic interference with the electronic circuitry. The tubes (4 x 12Ax7) operate in class A to give supreme sonic result. Alexander provides five line inputs and one tape output. Also there are optional one balanced input and one output. The volume control is made with a motorized blue Alps. The input selection utilizes high grade relays.
Of course Alexander is remotely controlled.
An LCD display in the front provides information about the input selected.
Features:
Alexander, Remote Control Preamplifier.
Five (5) Line Inputs with Tape Out.
Remote Controlled Volume & Inputs.
High Grade Selection Relays.
Alps Volume Control.
Matched Input & Output Tubes.
Four Independent DC Power Supplies.
Two Independent DC Power Transformers & One Choke.
Optional One (1) Ballance Input & Output Connenction.
Power Supply Capacitors United Chemicon.
No Feedback Design.
Porcelain Tube Bases.
Double Face Printing Circuit with Separate Signal & Power Path.
Hand Made Power Transformer.
High Grade Mundorf Polypropylene Signal Capacitors.
Metal Film Resistors with Low Tolerance 1%.
Gold Plated Input Connectors Ultimax.
Gold Plated RCA & XLR Output Connectors Ultimax.
Five Years Guarantee.
Also available with very high end components and transformers, ULTIMA version.
Tsakiridis Devices
Alexander II line/phono preamplifier
OUR VALUES
Expertise
Personal Advice
Auditorium / Physical Shop
Customer Support