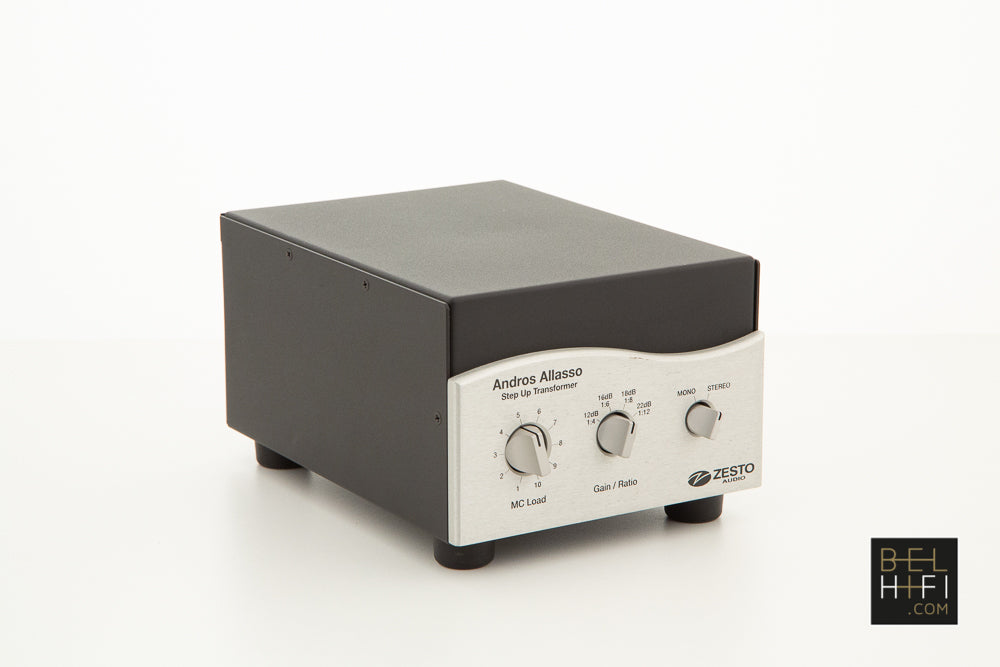 Details
Zesto Allasso step up transformer:
What to know about the Allasso Step Up Transformer:
"You are now free to roam the cartridge planet"!
On Demo at the shop!

3 Reasons You May Want a Step up Transformer:
You own a very low or very high output MC cartridge.
Your cartridge Loading/Gain is difficult to match on your current system.
You own more MC cartridges than MM and don't want to buy another phonostage.
Why You Need a Phonostage with a Step up Transformer:
A step up transformer does not have the RIAA curve equalizer.
It doesn't have power either.
It goes between your turntable and your phono preamp.


Why a Phonostage is So Important:
When a vinyl record is made the volume of the bass is reduced and the treble is increased.
Otherwise, the bass would cut a groove too big for a stylus to read or for the music to fit the record.
The phonostage reverses the process by taking the delicate signal from your cartridge and adjusting it so that the bass and treble are restored to their original volume.
This common standard is known as the RIAA curve.
Works on Any Phonostage:
The Allasso is extremely versatile.
It will work with any standard phonostage with a 47K MM input.

What Does a Step up Transformer do:
It amplifies the delicate signal from your MC cartridge.
An MM cartridge has a higher output than MC, so a MC needs to have a different step up ratios/gain to reach the same output.
You Have Lots of Choices
You now have 40 options in Stereo and 40 options in Mono.
It has enough adjustments to tailor it specifically to your cartridge or your next one.
It's just you and your ears, no math skills required.

What is Allasso?
Allasso in Greek means to change or transform one thing to another.
Key Features
Allasso in Greek means to change or transform one thing to another.
It's very versatile! Will accommodate the widest range of cartridges with 40 adjustments in Mono and 40 adjustments in Stereo.
It's flexible to allow you to control the 4 step up ratios/gain settings, each having 10 load positions.
Designed with the highest quality MC transformers.
They are quiet, with extra shielding and large enough with the multiple windings to handle even your high output cartridges.
It's easy to use as all the adjustments are on the front, nothing is hidden inside.
All adjustments can be done on the "fly" without clicks or pops.
No math skills are required; it's just you and your ears.
Enough adjustments to tailor it specifically to your cartridge or your next one.
Works with any standard MM input on any phonostage.
Designed to reduce "Hum" with 2 ground lift switches and 2 ground binding posts.
The Mono switch is specifically designed to reduce "Hum" in your Mono cartridge.
A unique feature of the Mono switch is it takes a single input and sends to both outputs.
It's quiet, with extensive grounding in the circuit design and enclosure.
RCA connectors are high quality, Gold plated, recessed with an isolated ground.
Recessed RCA connectors are durable and will hold up to the typical Audiophile who loves to change their configuration.
Elegantly designed 18 gauge steel enclosure to help isolate the electronic "chatter" from nearby equipment.
Easy to read large type on back panel.
Each unit is hand built "Made in the USA".

Specifications:
Frequency response:-3dB at 0.4Hz to 100 KHz
Phase deviation: 1° typical at 20Hz
Transformer noise: 2 dB @ 20 Ω, 1.8 dB @ 12 Ω
Hum rejection: 125 dB @ 60 Hz
Voltage gain: 12dB, 16dB, 18dB and 22dB
Step up ratios: 1:4, 1:6, 1:8 and 1:12
MC load: 40 positions in Mono, 40 positions in Stereo
Recommended output load: 47KΩ @ 200pF (MM input)
Inputs: Balanced and Single Ended MC
Outputs: Single Ended
Grounds Independent input: ground-lift switches
Grounds: Two ground binding posts
Mono: Takes one input and sends it to both outputs
Dimensions: 4"H X 6"W X 8"L (101.6mm X 152.4mm X 203.2mm)
Weight: 5lb (2.27Kg)
Shipping weight: 8lb (3.63Kg)
Box dimensions: 7"H X 9"W X 13"L (177.9mm X 228.6g X 330.2g)
Zesto Audio
Allasso
OUR VALUES
Expertise
Personal Advice
Auditorium / Physical Shop
Customer Support