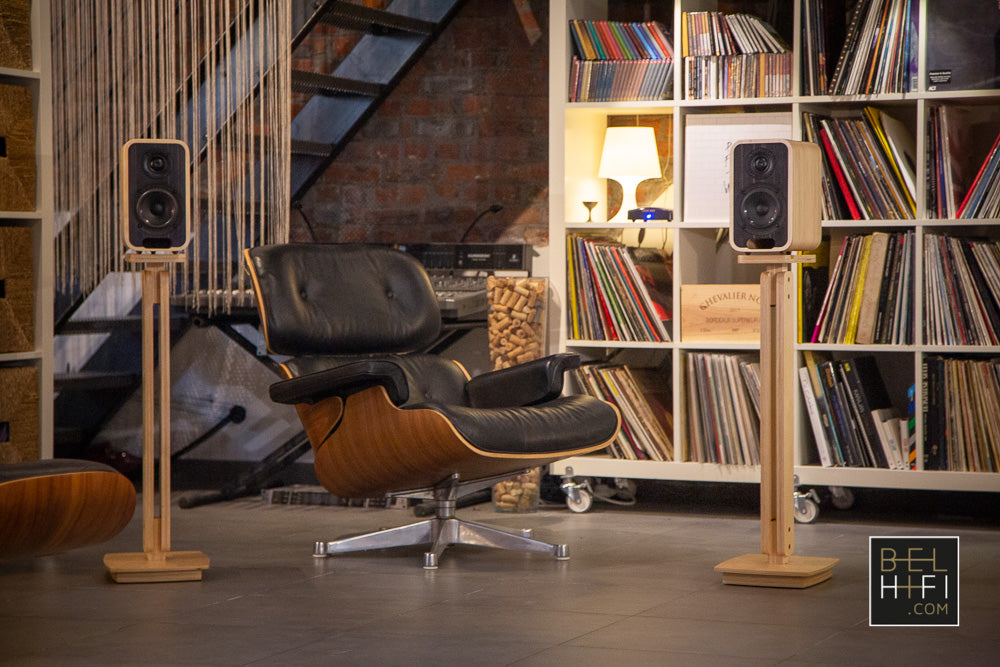 Details
Audel Sonika MKII:
On demo at the shop!
Click here for the review:
https://belhifi.com/blogs/news/audel-sonika-mkii-at-belhifi
The Audel are beautiful and intelligent, they speak to your soul as to your hearing, get angry when it is necessary and whisper tenderly when the music asks.
They are not capricious and are satisfied with most amplifiers. Good quality amplifier, no matter whether it's a tube or a transistor.
They do not lie and communicate you the musical message with a great precision, in the tones, in the dynamics, in the sound stage.
A companion for the long term, an investment that gives a lot of pleasure and never regrets...
Features:
Floor stands and front grills are optional!
Enclosure:
IRS (Internal Ribs System)
The new "ribs" assembly system guarantees a mechanical stiffening of superior quality, since the alternating thickness acts as a brace.
The resulting channels are used for a "reasoned" insertion of the sound-absorbing material, so as to prevent the formation of stationary waves inside the cabinet.
The drivers are mounted on a 36 mm multilayer panel. The flare of the woofer is shaped so as not to cause the tube effect due to the thickness itself.
Reference components:
... for our entry level model
Sonika mounts a performance 4-inch woofer with a thick aluminum frame, to optimize its strength and stiffness.
The driver itself is made with a non-conductive fiberglass coil.
The tweeter is a 29mm model with shielded neodymium used in some other very high end brands.
Specifications:
SYSTEM: 2.0 CTL integrated bass reflex.
CABINET: Multipanel System – Structure laminated birch wood
TWEETER: 29 mm soft dome
WOOFER: 4 inch
FREQUENCY RESPONSE: 48 Hz – 25.000 Hz
CROSSOVER POINT: 2.500 Hz
SENSITIVITY: 87 dB
 NOMINAL IMPEDANCE: 4 ohm
POWER HANDLING: 25W–100W
FINISH: Birch cabinet – Black or Ebony front plate – beeswax surfaces
DIMENSIONS: 260 x 150 x 252 mm (HxWxD)
WEIGHT: 9 Kg pair.
Audel
Sonika MKII (PAIR)
OUR VALUES
Expertise
Personal Advice
Auditorium / Physical Shop
Customer Support