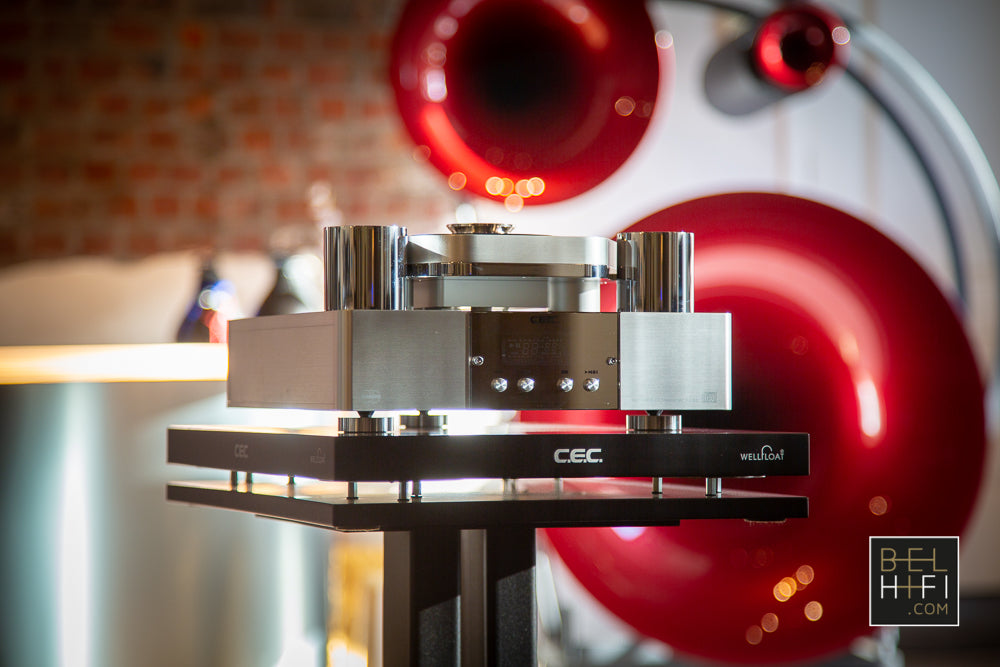 Details
CEC TL0 3.0:
On demo at the shop!
Features:
In every respect the new CEC TL 0 3. 0 CD Transport embodies a level of perfectionthat is unprecedented and breathtaking. Handcrafted and assembled in Japan, each TL 0 3.0 is rigorously tested after completion and then "burned in" before being certified.

CEC is legendary for precision. Conventional CD transports tend to amplify even the slightest vibration in the reflective surface of the disc due to the distance the laser beam has to travel. These microvibrations scatter light and reduce the integrity of the digital data stream. The TL 0 3.0's revolutionary three part chassis suppresses micro-vibrations and resonances that cause unwanted jitter in the data stream.

The elimination of jitter greatly reduces the distortion that too often characterizes CDs as digital rather than musical. CEC has achieved superior isolation of the TL 0 3.0 drive mechanism by using three spiked feet and a rubber damped three-point suspension.

CEC has achieved superior isolation of the TL 0 3.0 drive mechanism by using three spikes rubber damped suspension.The drive mechanism is a massive 30 mm sandwich of non magnetic materials with dissimilar resonances: a 20 mm aluminum plate and a 10 mm brass plate. To assure undisturbed operation of the laser pickup, all sources of electro-magnetic interference are physically isolated.The massive regulated power supply is housed in a separate chassis that may be located up to 1.5 meters from the TL0 3.0 drive mechanism chassis.

The drive electronics are enclosed in a 20 mm thick non magnetic anodized aluminum chassis isolated from the main drive mechanism. The drive and laser motors are electronically, magnetically, and mechanically isolated from the laser pickup and turntable, decoupled by two precision drive belts. The disc drive motor is a cog-free low torque design that is inherently free of vibrations.

Much like analogue turntables, inertia is applied to the disc by the use of a 460 g. stabilizer, of 125 mm diameter, supported by an ultra precision spindle/thrust bearing assembly. This avoids the need of permanent electronic servo-corrections required by all other CD transports, and ads vertical stability to the disc

100% made iin japan - handride, craftsmanship, and music reproduction on compact disc have reached a new plateau with the CEC TL 0 3.0.

The result:  music reproduction on its highest level..

CEC's flagship model TL0 X refined 2014 as TL0 3.0.

Major points of improvement are as follows:

1. The servo PCB circuit has been redesigned to shorten
the signal pass and strengthen the grounding. This will
minimize the deterioration and the distortion of the digital
signal recorded on the CD.

2. Word-clock input has been newly installed. Having the
same outer clock as the D/A converter, jitter will be remarkably minimized to improve sound reproduction.

3. The height of CD stabilizer (puck) has been decreased
by 5 mm to stabilize the rotation of the disc.

4. CEC's original Superlink connection has been fitted for
the first time in the TL0 series. When connected to the D/A
converter equipped with Superlink inputs, the shortest and
most direct digital signal transportation is available without
passing through encoding and decoding procedure.The
left/right-clock data, bit-clock data and digital audio music
data are all transmitted from the CD-transport to the DAC
while the master-clock is generated inside the DAC and
sent to the CD-transport.

5. The external appearance has been upgraded for the first
time since it's original release in 1993. The visible fixing
screws and housing have been minimized at each edge of
the housing components.

Specifications:

Drive System: Double Belt Drive // Spindle & Pick-up
Playable Discs: Audio CDs & Finalized CD-R/RWs
Power Supply: AC 100-240V / 50-60Hz
Suspension: D.R.T.S. (Double Rubbers and Triple Springs) with Three Tiptoes legss
CD Stabilizer: Brass (ø125mm, weight:460g - Brass Nickel Plating)
Main Mechanism Chassis: Hexagon shaped aluminum in 20 mm thick and brass in 10 mm thick: combination of two different metallic materialsing)
Operation Housing: Aluminum in 20 mm thick
Digital Input: Word Clock BNC x1: 44,1kHz
Digital Output: Super Link x 1 (BNC x 4) 2.5Vp-p/75Ω
                        TOS x1: -21 ~ -15dBm EIAJ
                        COAXIAL(SPDIF) x1: 0.5Vp-p/75Ω

                        AES/EBU(Balanced XLR) x1: 2.5Vp p/110Ω
Dimensions: 300(W) × 317(D) × 158(H) mm
Power supply: 125(W) × 250(D) × 103(H) mm
Weight: Unit 16 kg // Power supply 4 kg
Color: Silver
CEC
CEC TL0 3.0
OUR VALUES
Expertise
Personal Advice
Auditorium / Physical Shop
Customer Support