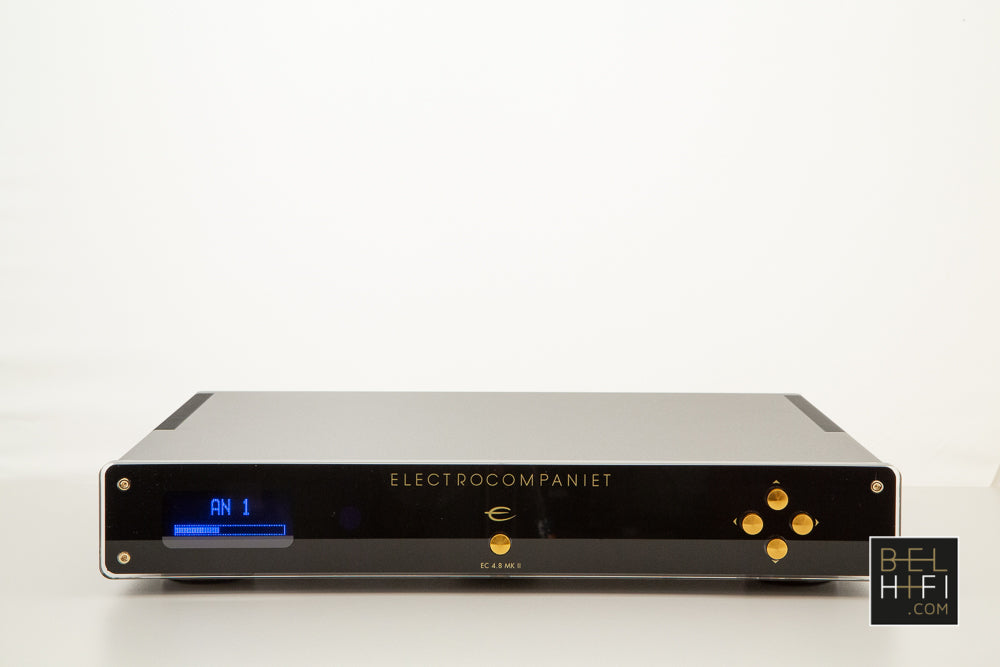 Details
Electrocompaniet EC 4.8 MKII:
On demo at the shop!


If music really matters...
Everything is clear;
The first time you turn the power on, you will understand what it means...
Plenty music addiction, detail but not too much, just like the concert.
Carefully balanced (!) between good bass extension and control, a detailed open midrange and a warm detailed top.
You will be able to listen to your preferred artists, as much as you can, it will be very difficult to go to bed !
Join us to the listening pleasure...


Features:
The Classic Line:
Good design doesn't age, and we are confident that the Classic Line will be just as relevant in thirty years time as it is today.
MADE IN NORWAY.
For more than 40 years, the name Electrocompaniet har been synonymous with great sounding power amplifiers.
Numerous prestigious international awards, top ranking reviews and the number of professional users relying on the quality of Electrocompaniet is proof of this.
Since 1998, we have enjoyed the same worldwide recognition with our outstanding EMC-1 CD player.
Here is the 4.8 two-channel preamplifier, set to join the ranks of Electrocompaniet award-winners.
Designed to make all power amplifiers sound even better, and to fill the need for a reference preamplifier at a higher price point,
the 4.8 will master sources and power amplifiers, making the system reach even higher.
Dual mono construction with a power supply for each channel ensures sublime sound quality. Remote control via supplied unit or optional RF based ECT 2.
New SPAC network for safety control of connected power amplifiers is also included.


For more Info's:
Electrocompaniet
EC 4.8 MKII
OUR VALUES
Expertise
Personal Advice
Auditorium / Physical Shop
Customer Support