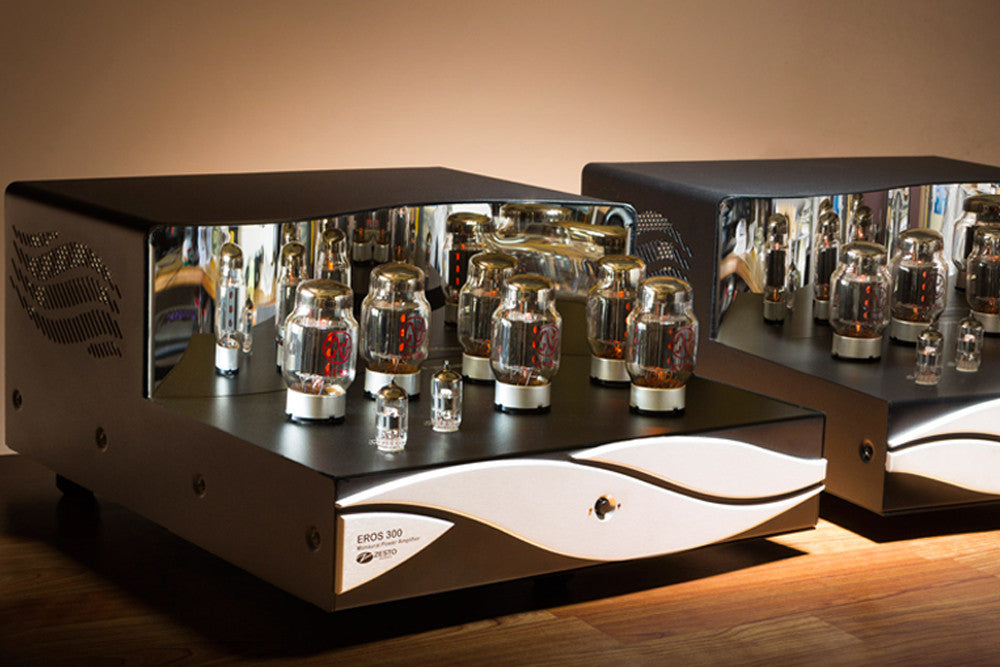 Details
Zesto Audio Eros 300 Class A Mono Power Amp : 
The challenge designing the Eros 300 was the conflict created when you want a lot of power, low noise and most importantly you want it to be musical. It took over 3 years to develop the Eros and 79 circuit designs later. Each design phase is based on a 50/50 balance between the technical spec and listening to each component change.  Ultimately, the final design must sound good because who listens to sign waves anyway. 
Class A has less cross-over distortion and therefore is more musical. The tubes are always on, so you have power when you need it. Class A is fast and responsive. There is no lag, providing your music more punch, transient response, better dynamic range and transparency. 
The secret to a good power amplifier design is matching the circuits of the power supply to the amplifier. The Eros 300 is a choke based power supply with a custom toroid power transformer that gives you maximum power with no compression. It's the most musical design because it retains all the dynamics from your sound source.
Features
Class A topology is the most musical of all amplifier designs because it has the lowest distortion.
Unlike solid state, this tube amp efficiently transfers power by matching the output transformer to the impedance of your speakers using 4 & 8 Ohm taps.
Two parallel options for your speaker cables; the binding posts or the SpeakOn connector.
The Eros 300 is easy to use. There are no adjustments or tweaking with Auto Bias technology on the output tubes. It's safe, consistent and the settings are always perfect so you can relax and enjoy the music.
Transformer balanced XLR input offers true noise cancelling and rejection as well as ground isolation from the preamp.
Should you need to eliminate a hum? The Eros 300 has a XLR ground switch installed for your safety. This eliminates the dangerous temptation to lift the ground from the mains.
The combo of Push-Pull – Ultra Linear output circuit design gives you more power & lower distortion.
No Negative Feedback in the circuit design provides better dynamic range because it doesn't compress the music.
Non Inverting Phase Polarity retains the directional information from the original source which gives your system punch.
A robust choke based power supply creates maximum immediate power with no compression.
Custom Toroid power transformer provides lower noise with plenty of available power.
The circuit design creates low noise levels with a wide frequency response. You will notice this in the really dark, quiet passages in your music.
Gold pin sockets are more reliable because gold doesn't oxidize when it heat cycles.
A matched sextet (6) output tubes provides a synchronized balance for the lowest distortion and maximum output of power.
An extensive grounding scheme is designed into the power supply, wiring and all tube circuitry.
Elegantly designed, heavy duty 14 & 16 gauge zinc plated, fully grounded steel enclosure isolates external noise and vibration.
All fuses are easily accessible
It's ready to enjoy with 50 hours of factory burn in on all circuits and vacuum tubes.
Each unit is hand built "Made in the USA"
Specifications per Amplifier
Output
Pure Class A
150 Watts per amp
4 and 8 Ohm output taps
8 and 5 Amp Slow blow fuses for outputs
Three 5 way binding post
One SpeakOn connector
Non inverting output phase polarity
Push-Pull and Ultra-Linear design
Inputs
Transformer floating XLR input
Balanced inputs with pin 2 hot, impedance of 12K Ohms
Single Ended input, impedance of 100K Ohms
XLR ground lift switch on balanced input
1.8 Volts RMS input to reach rated output
Detailed Specs
Monaural
Auto bias
No negative feedback
Frequency response 20Hz to 50Khz ~ 2db
Total Harmonic Distortion ~ 0.43% at 1W output into 8 Ohms
Gain of 26dB
Noise level > 5 mV RMS into 8 Ohms with input shorted
1% metal film resisters throughout
Polypropylene capacitors throughout the audio path
Power
Custom Toroidal power transformer with global mains
Choke based power supply design
factory installed 220V, 230V, 240V 50/60Hz
Power consumption at rated output 360 Watts
Power consumption at idol 348 Watts
On/Off switch conveniently located on front panel
3 pin IEC power connector with fuse
Active Components
Matched sextet, set of six (6) KT88's vacuum tubes
Two (2) Gold pin ECC82s (12AU7) vacuum tubes
High quality gold pin ceramic sockets
Other Features
Each unit is made by hand
50 hour factory burn in on all circuits and vacuum tubes
Dimensions 17″ W X 20″ D X 10 " H
Weight 64 lbs. (29.03 kg)
Shipping weight 80 lbs. (36.28 kg)
14 and 16 gauge Zinc plated steel enclosure
Two year limited warranty
Six month warranty on vacuum tubes
Zesto Audio
EROS 300 (PAIR)
OUR VALUES
Expertise
Personal Advice
Auditorium / Physical Shop
Customer Support