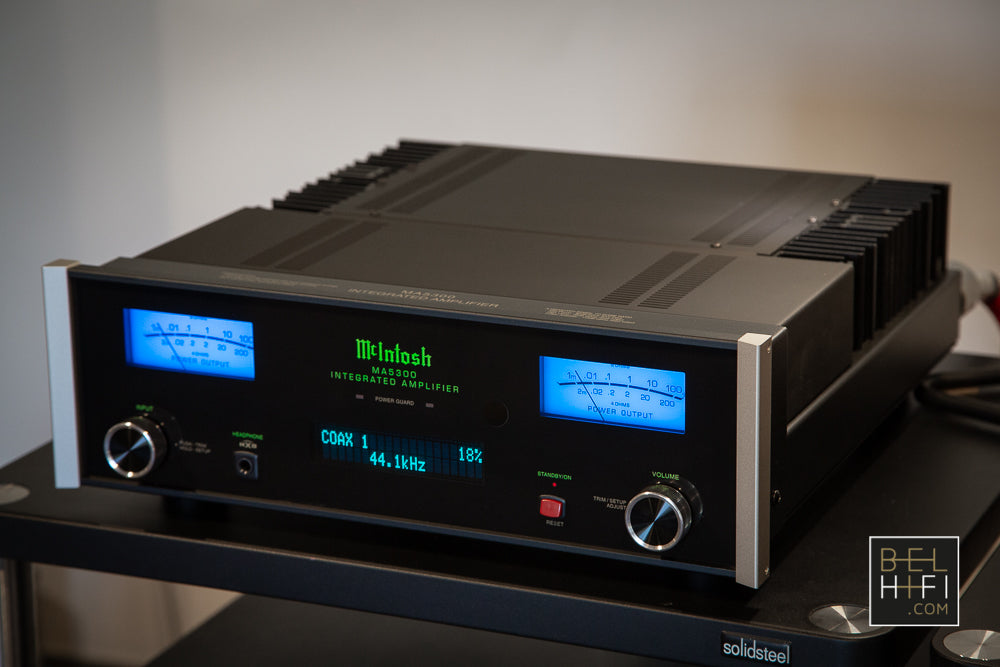 Details
McIntosh MA5300 Integrated Amplifier


On demo at the shop!


Just like a river that fills my body with delicious and sweet music like a rare nectar ...
McIntosh's sound you will never forget!


"There are many integrated amplifiers in this price category, "but nobody does it 'the McIntosh way".
You get all the things you want from an amplifier: power, control and high resolution with tons of details.
You get an amplifier that plays from the heart."
Awarded 5 out of 5 stars. - Stereo+


Features:
The MA5300's complement of 12 inputs includes 6 analog inputs (4 unbalanced,

1 balanced and 1 Moving Magnet input for turntables) and 6 digital inputs (2 each coaxial and optical,
1 USB and 1 proprietary MCT for use with our MCT series of SACD/CD Transports).
All digital inputs are housed in our DA1 Digital Audio Module which can be replaced by future modules
as new digital audio technologies are developed.
The DA1 comes with an 8-channel, 32-bit Digital-to-Analog Converter (DAC)
used in Quad Balanced mode and supports up to DSD256 and DXD 384kHz for high resolution audio playback.
All inputs can be given user-friendly names to simplify system control and configuration.


For More Info's:
McIntosh
MA5300 Integrated Amplifier
OUR VALUES
Expertise
Personal Advice
Auditorium / Physical Shop
Customer Support