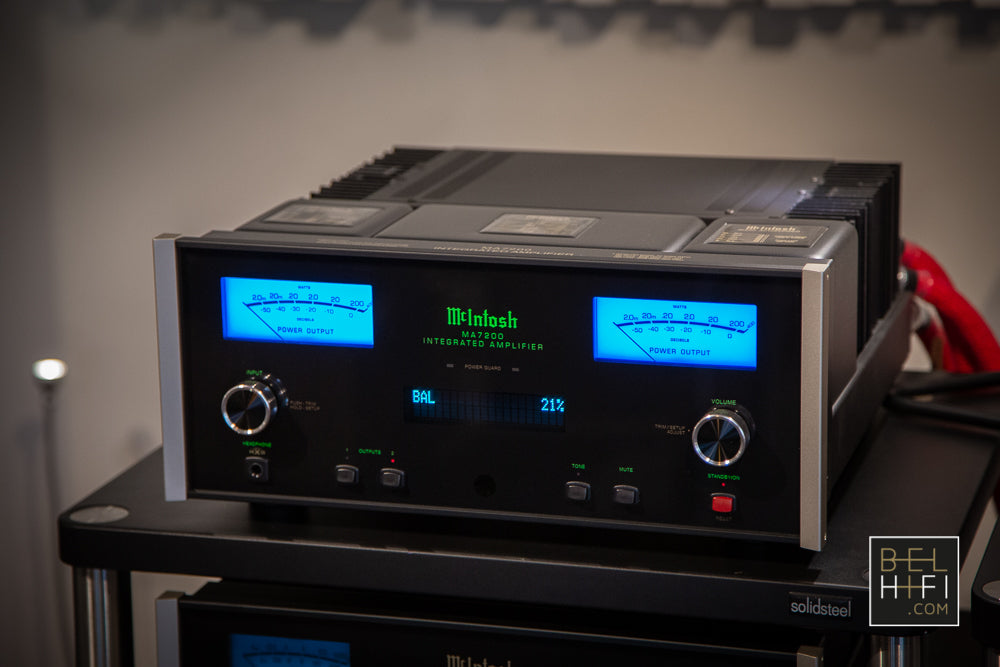 Details
McIntosh MA7200 Integrated amplifier
On demo at the shop!


The real McIntosh spirit with output transformers...
Driving your speakers will be a piece of the cake!
Big power impression whithout agressivity, relaxing sound with dynamics.
All what you need for hours of music pleasure!


Offering 200 Watts per channel and 14 total inputs,
the space-saving MA7200 Integrated Amplifier can easily become the core of your 2-channel home audio system.
Making up its 14 inputs are 8 analog connections
(5 unbalanced, 1 balanced and 1 each of Moving Coil and Moving Magnet inputs for turntables)
along with 6 digital
(2 each of coaxial and optical plus 1 USB and 1 proprietary MCT for use with our MCT500 SACD/CD Transport).
The digital inputs are housed in our DA1 Digital Audio Module,
which can easily be replaced by future modules to keep your MA7200 current with the latest digital audio technologies.
The DA1 comes with an 8-channel, 32-bit Digital-to-Analog Converter (DAC) used in Quad Balanced mode.
The USB input accepts PCM signals up to 32-bit/384kHz and supports up to DSD256 and DXD 384kHz for high resolution audio playback,
while the coax and optical inputs will decode music up to 24-bit/192kHz.
All inputs can be given custom names for user-friendly system control and configuration.


"A very elegant sounding amplifier with a lot of power in reserve...
a hefty amplifier that is capable of great things and a lot more than just brute force,
the MA7200 doesn't just look the part, it sounds the part!" - HiFi+


For more info's:
McIntosh
MA7200 Integrated amplifier
OUR VALUES
Expertise
Personal Advice
Auditorium / Physical Shop
Customer Support