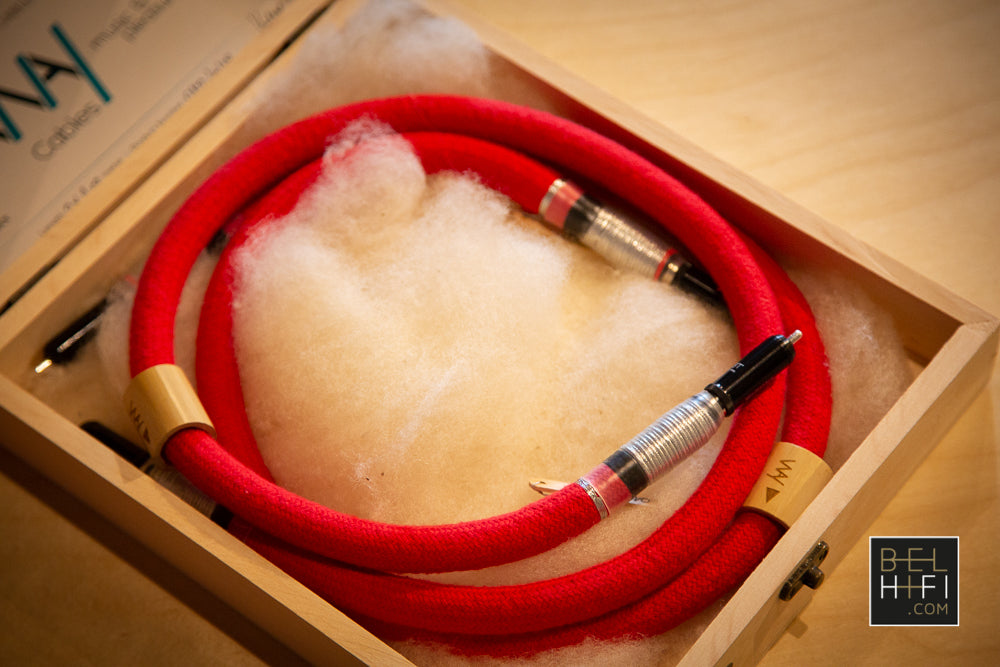 Details
Way Silver4+ RCA-XLR interconnect (PAIR)
On Demo at the shop!


We are in love with these exceptionnal quality for the price handmade jewels!
They beat the competition at higher price!
Both versions, single ended (RCA) and balanced (XLR) SILVER 4+ interconnects
provide delightful emotional music presentation well resumed by the constructor:
breathtaking high resolution,
excellent tonal neutrality and balance,
impressive dynamics and micro details with rich texture,
well defined sound body and transparency,
strong and resolving bass, top level mids and sophisticated upper frequencies without any harshness,
wide 3D soundstage and true feeling of space between instruments,
deep background
Looking for a different size? Ask us!


»WAY Cables reveal what the High-End audio is all about, providing the listener deep insight into the art of music«
These are exclusive High-End audio cables with ultimate sound features and exceptional handmade quality in limited quantities,
far superior to factory mass production quality standards.
Plus Series is new generation of WAY Cables that completely substitute former product range,
while lineup is enriched with all new flagship speaker cable – Endless.
Way cables offer 3 ranges of solutions for each analog and digital RCA, analog and AES-EBU XLR, jumpers and speakers cables.
They also have USB and Power cables...

Features:

Dielectric:
Cotton has 1.3k, which is the closest to the dielectric properties of a Vacuum and of Air and almost two-times better permittivity
than other plastic materials that are most commonly used for making audio cables.
Moreover, Pure Cotton has the best influence on the sound, as natural and as organic as its origin.

connectors:
Pure silver WBT RCA and speaker connectors,
Silver-clad OFC WireWorld XLR plugs,
4N silver-plated 4N copper customized IeGO power connectors with anodised aluminium damping ring,
Gold-plated Copper customized USB connectors.

Conductors:
In addition to their technical superiority, Silver conductors reach over 106% of conductivity that brings fantastic audio results.
EQL-WAY™ Identical solid core wires,
DIF-WAY™ Different solid core wires,
TT-WAY™ Twisted tapes,
HYB-WAY™ Multi core hybrid.
Design: UXD1-WAY™ / Unique Xtreme Damping System from vibrations, noise and electrical interference
Conductors: EQL-WAY™ / Solid-core identical wires
Material: 5N single crystal silver
Gauge: 20.15 AWG / 0.5 mm² in total
Insulation: COT-WAY™ / Cotton with 1.3 dielectric constant
Plugs: WBT-0110 Ag nextgen™ RCA connector with pure silver contacts
WireWorld XLR connector with silver-clad OFC contacts
WAY
Silver4+ analog RCA-XLR interconnect (PAIR)
OUR VALUES
Expertise
Personal Advice
Auditorium / Physical Shop
Customer Support