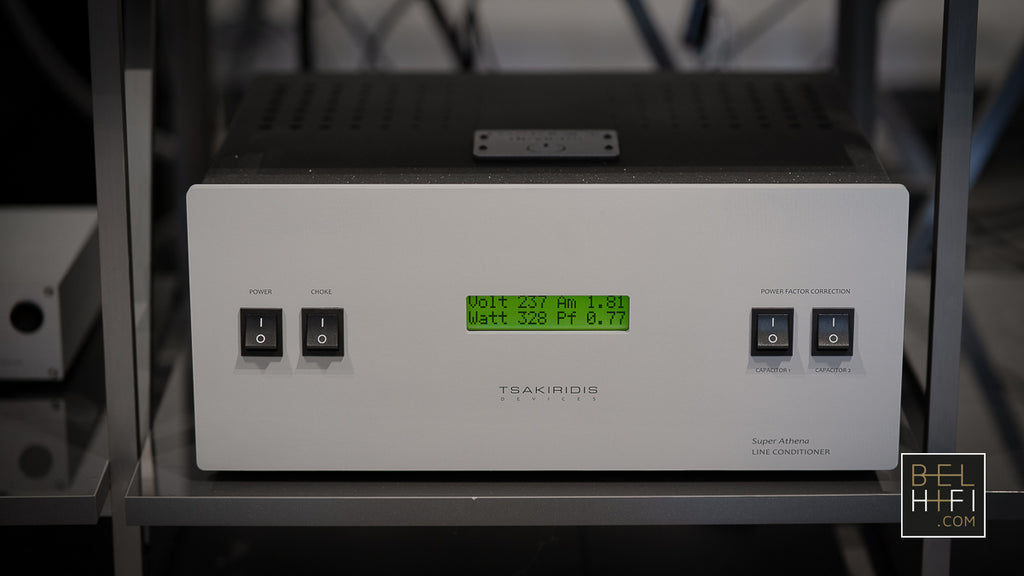 Details
Tsakiridis Super Athena :


On demo at the shop!


Our filter best seller!


Belhifi Award !!!!!!!!!


Super Athena is a line conditioner that includes everything needed to provide the best power supply to sound systems.
Athena S. provides two direct line outlets, four line balance filter outlets, and four balance isolated outlets.
The filter included protects from surge voltages (lightnings etc) and eliminates all parasitic currents superimposed on the power network. The filter power capability is 3500W.
Athena S. includes an isolation transformer (optional) to provide clean and isolated power to the sound sources.
Also a power choke (optional) of 2000W ensures that your power amplifiers will have a surplus of power when they need it.
One more feature(optional) of Athena S. is the power factor correction.
At the front panel there is an informative LCD display to monitor all power parameters.
Athena S. has a bluetooth data sender to communicate with smartphones. An application is provided by Tsakiridis Devices.
As with all our products we provide a 5 year guaranty for our line conditioners.


Specifications:
Super Athena, Line Filter - Isolator, Filter Power Output 3500 Watt, Isolator Power Output 800 Watt.
Two (2) Line Balance Filtering Outlets.
Two (2) Direct Line Outlets.
Six (6) Balance Isolated Outlets.
Power Factor Correction.
Power Choke.
Over Voltage Protection.
Informative Display (Watt / Volt / Ampere / Power Factor).
Bluetooth Data Sender.
Hand Made Power Choke & Transformer.
Powerfull Android / iOS / Windows Application.
High Grade Polypropelene Filtering Capacitors.
Five Years Guarantee.
Tsakiridis Devices
Super Athena
OUR VALUES
Expertise
Personal Advice
Auditorium / Physical Shop
Customer Support